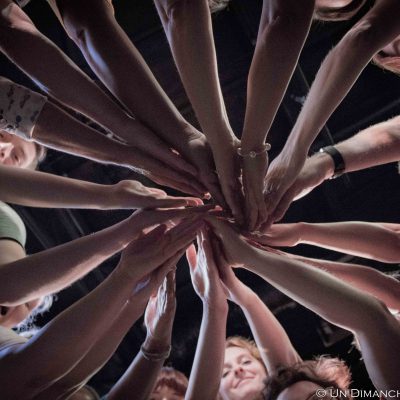 Beginning Improv
Improvisation is more than just a useful tool for actors, it's a different way of approaching life. Through fun games and exercises, students will gain more confidence, more creativity, and more playfulness with the basic improv skills of listening, reacting, working with others, and trusting oneself. Not only will it make you more comfortable while thinking on your feet, it's really fun! This fun class is eight weeks of meeting and playing in an enjoyable, supportive environment without the pressure of a final performance.
Dates

Saturdays, 12-2:30pm, January 20 - March 9

Cost($285) $249*

Holiday Savings: Save $36 if you sign up before December 19

LocationSt. Columba's Episcopal Church — 939 James Burgess Rd, Suwanee, GA 30024
Prerequisites

No previous training or experience necessary.
What People Are Saying:
I took my first improv class with Amanda, and I'm 

so glad I started with her. I walked into that class terrified - I had 

no acting experience and was rarely funny. She created an environment

where I felt encouraged and safe to be vulnerable (a rarity for me at 

that time)….I can also honestly say that her classes have changed my life outside 

of improv – I'm more open, more comfortable with failure and less 

stressed in social situations.

Amanda has achieved the impossible by turning someone who'd 

never

 been on stage before, someone with severe social anxiety, into an improviser who performs in public on a weekly basis. All in less than 2 years. And it's even enjoyable (sometimes!) WHO ELSE COULD DO THAT!? I'll tell you who -- no one.

I really enjoyed the safe environment that Amanda created.  I am really a beginner and I never felt like an outsider during the workshop.  Amanda made sure that we all walked away with a new skill and ways to think outside of the box!

I was considering taking an improv class to gain confidence in speaking and 'get out of my head.'

I loved the class. Amanda's passion came through in her teaching, and in her ability to see and draw out the potential improviser in each of us. Amanda guided us through exercises precisely and with such fun, that before we knew it - towards the end of the sessions - the skills had built upon one another and my classmates and I were creating short scenes and responding to each other in the moment. I've continued taking classes and hope to have Amanda again as a teacher!